Welcome to Shadow & Light Magazine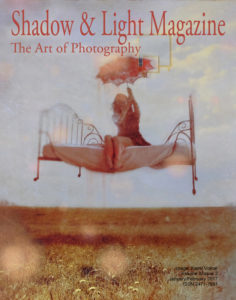 I would like to introduce you to Shadow & Light Magazine, a PDF-based bi-monthly publication covering all aspects of the art of photography.
Pictured on the left is the cover of our fifteenth issue (January/February 2017) and it features photographer Kamil Vojnar (cover image), with additional portfolios by Karin Hillmer, Vincent Serbin, Paul Biddle, Lori Pond, and Brooke Shaden.
We began Shadow & Light Magazine with only 78 pages, and that page count has now increased and settled in to 100 pages full of compelling writing and wonderful portfolios.
Our annual (six issues) subscription rate is $14.50, a savings of $5.00 off the single issue price of $3.50!
Throughout our 15-issue run we have featured portfolios from more than 120 photographic artists (many of whom are having their work published for the first time), as well as single fine art photography images from more than 80 photographers. As a result of the emphasis on the image and quality essays, our world-wide subscriber base has been growing significantly.
We regularly have insightful and informative articles by writers like George DeWolfe, Brooks Jensen, Alain Briot, Helen K. Garber, Tim Anderson, Beate Chelette, Alyson Stanfield, Andy Ilachinsky, E.E. McCollum, and Sandra Djak Kovacs, among others.
The majority of the photographers featured in Shadow & Light Magazine come from our submission process, which is simple and very easy.
Just hover over to the "Purchases" tab at the top of this page, and you will be able to pick up single issues or sign up for an annual subscription. Note: You will not be able to purchase single copies of the current issue until after the 15th of the release month.
If you click on the "Submissions" tab above you will discover all the information you need to know in order to submit your work.
There will also be no more deadlines for submissions for future issues. Once you submit your work it will remain in our archives. If you didn't qualify for a "Showcase Portfolio," we might choose one of your images for the "Single Image Showcase." That's why submitting a portfolio makes great sense! All fees for submissions will remain the same.
Thank you for your interest in Shadow & Light Magazine, and we hope to be able to serve, educate and entertain you for many years to come.